What is "Yakunara Mug Cup Mo"?
"YAKUMO" stands for "Yakunara Mug Cup Mo".
The "Kurukuru Rokuro Manga" is about high school girls and the Togei-bu (pottery club) set in Tajimi City, Gifu Prefecture.
It is scheduled to be distributed as a free magazine in Tajimi, Nagoya, Osaka and Tokyo four times a year.
It is available as a free .pdf download from this website.
"YAKUMO" presents a story set in Tajimi called "Tajimi Kurukuru Rokuro Projects".


About "Tajimi Kurukuru Rokuro Project"
Tajikuru is short for Tajimi Kurukuru Rokuro Project.
This is about people trying something new, something which is central to the region. Just as clay on a potter's wheel spins from the center, so Tajimi's pottery culture influences the local area's administration, economy and people.
In this story, we want to show the growth of dreams, plans and personality through pottery-making.
We will be overjoyed if you would join us in experiencing the Tajimi Kurukuru Rokuro Project.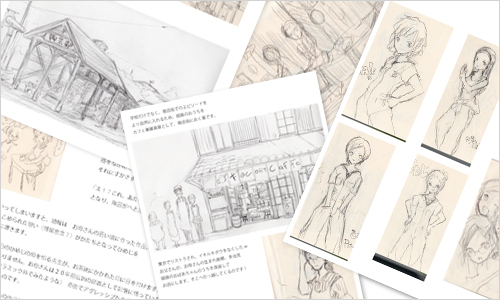 [Photographs] Setting illustrations
About the free magazine "Yakunara Mug Cup Mo"
Japanese Language Edition
・Scheduled to be published four times a year
・Founded February 14, 2012
・B5/Color・Monochrome
・Circulation 5,000

Distribution areas
・Public accommodations and cooperating stores in Tajimi, Gifu Prefecture
・Cooperating stores in Tokyo, Nagoya, Osaka.
English Language Edition
・Founded April 1, 2014
・.pdf distribution

Credit
・Editing: Yakunara Mug Cup Mo production staff
・Publisher: Planet Co.,Ltd.